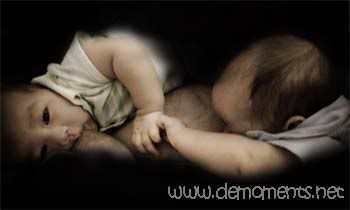 De boys enjoying their meal while holding hands

I love these special moments. With only 2 pregnancy in this life, I know I will surely miss my children's baby moments. Hubby just mentioned to me this morning that it would be perfect if could have another baby girl later when we could afford financially. But alas, I know the next would be a boy too (old people said the line on my babies tight could tell and I strongly believe in this). Since there is no chance of getting a girl naturally, we decided to put a full stop.
Babies really grow too quickly. As you can see, even my boys lost their innocent newborn look. Like any other parents out there, I want to capture as much moments and pictures with them.
I have a collection of my special moments with them, especially during breastfeeding. Of course hubby was against on posting these intimate moments here in public.
See my favorite picture on my header on my another
blog
, I would say, it is priceless!