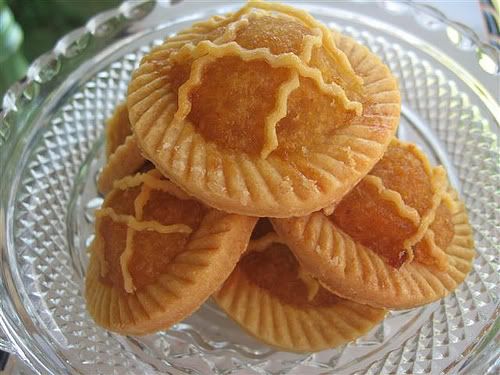 CNY is around the corner again, and this time I will to bake REAL Melaka Nyonya Pineapple tarts. Although the pineapple jam can be bought easily from bakery shops, I tell you, they do not taste as nice as compare to the Melaka Nyonya homemade ones.
I have called several Pineapple tarts maker in Melaka from Jonker Street in Melaka if they are keen to sell the cook grated pineapple, but sadly they don't (of course they are smart not too). Until I found Miche again.
Guess what, she will ask if her mum could make the paste for me this time. Geee, *so happy*.....Thanks in advance, Miche! Which means I will be able to bake real Nyonya Tarts!!
Since Miche is providing me 1kg pineapple jam, I think I might be able to produce a little bit more than what I need. If you are interested I could spare 4 boxes (only limit to 30pieces per box, Rm0.70/piece). Buzz me quick.